Posted by KTM Press Release on 24th Aug 2017
After a lengthy break, the Santander Consumer Finance KTM RC Cup returned in stunning form at the unique circuit of Cadwell Park where Jack Nixon won both races.
After a week of mixed weather, the skies cleared to give the young riders perfect conditions to head out and tackle the infamous Lincolnshire tarmac roller coaster for Round Six of the eight-round RC 390-powered race series this past weekend (18-20th August).
In qualifying, it looked like series leader, Brian Hart, was in a class of his own by claiming pole position by three quarters of a second over Nixon, with fellow champion contender, Fenton Seabright, a massive 1.7 seconds further back. But when it came to being Ready to Race, 16-year old Nixon from Folkestone brought his A-game.
Race 1
Hart took the early lead in Saturday's opening race and then extended a small gap from the rest of the field. While it looked set for Hart's sixth race win of the year, fans had to wait until lap 6 of 8 to see Nixon finally chase him down and take the lead.
Hart committed to a last lap charge on Nixon however, the run down to the flag saw Nixon take the win by the incredibly tiny gap of just 0.078s. Seabright took the final slot to round out the podium to see the 'familiar three' on the podium. Matthew Bower and Sam Laffins also had an amazing race, with the former just beating the latter by an even close 0.047 seconds for fourth!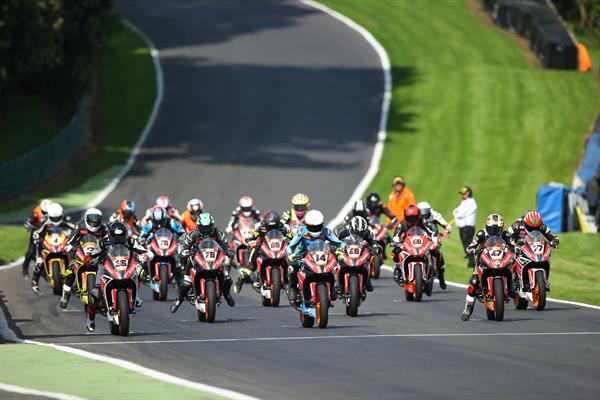 Race 2
Heading out for Race 2 on Sunday, there was a hard three-way battle between championship leaders, Hart, Seabright, and Nixon on their identical specification KTM RC 390 Cup machines.
It was Hart who took the hole shot, but was immediately under pressure from Jack Nixon. Despite claiming a much faster new lap record, Hart couldn't shake Nixon from his tail. With a fantastic battle erupting between the two young guns, Fenton Seabright managed to start catching them up. But in the final two laps, Nixon dug deep to make his move for the lead and pull a gap. Holding his position, Nixon took the double win and made it a repeat of the podium positions from Race 1.
Hart still leads the championship by 15.5 points, but Nixon's 50-point haul from Cadwell now puts him into second overall with a slender 1.5 point gap over Seabright. The battle for the championship is firmly between these three, but both Matthew Bower and Sam Laffins are coming on strong at the end of the season and will be looking to upset the usual trio and battle for the podium.
Round Six takes place at Silverstone from September 8-10.